What is an LED filament light bulb?
Views: 529 Update Date: Aug 22 , 2018
LED Filament bulbs look just like the traditional incandescent counterparts thanks to a unique new LED technology that allows for very small LED emitters to be arranged in a linear filament style package. These emitters are then powered using a traditional glass insulated circuit similar to that found in a traditional incandescent bulb. The end result is a bulb that functions and looks virtually identical to an incandescent.


The best part is LED filament bulbs can come in all shapes and sizes just like an incandescent. The filament LEDs can even be made with super warm 2200K color temperatures or coated glass to provide a vintage look just like original Edison or Marconi style filament bulbs. These bulbs are perfect for restaurants, high end retail stores, or even homes that wish to show off a fixture where a typical LED just wouldn't look proper.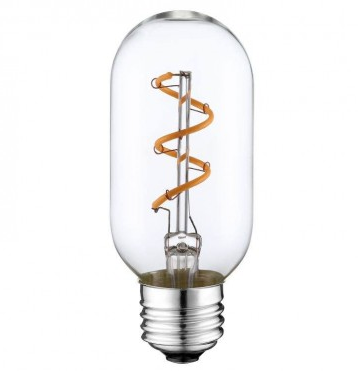 Positive benefits of the LED design are potential higher efficiencies by the use of more LED emitters from lower driving currents. A major benefit of the design is the ease with which near full "global" illumination can be obtained from arrays of filaments. The LED filament consists of multiple series-connected LEDs on a transparent substrate, referred to as Chip-On-Glass (COG). These transparent substrates are made of glass or sapphire materials. This transparency allows the emitted light to disperse evenly and uniformly without any interference. An even coating of yellow phosphor in a silicone resin binder material converts the blue light generated by the LEDs into white light.

LED Filament bulbs typically have a shorter life span that regular LED bulbs with most rated between 15,000 and 40,000 hours but these figures are amazing in comparison to traditional incandescent technology which lasts just 500 to 1000 hours. Like all LEDs they use very little electricity as well with 60 watt equivalent filament bulbs using between 7 and 10 watts of power typically.